Fair Season is Here!!!!
Massachusetts is home to many fantastic agricultural fairs. Many have fireworks, concerts, horse pulls, livestock shows & tractor pulls.
They are a great way to have some family fun and learn about our agricultural history.
Blandford Fair –August 30- September 2, 2013
10 North Street Blandford, MA 01008
Admission: Adults $10, Seniors & ages 6-12 $5, Under 6 free, Parking $5
Website: www.theblandfordfair.com
Encouraging and promoting Agriculture, Horticulture, Floriculture, Manufactures, Mechanical & Fine Arts, and other associated disciplines.  
Bourne Scallop Festival – September 20-22, 2013
Buzzards Bay Park, Main Street, along Cape Cod Canal in Bourne, MA
Admission $6.00 Adult, Children 6-12 are $2, Under 5 Free
Website: www.bournescallopfest.com
Whether the kids are 8 or 80, lots of fun can be found at the Bourne Scallop Fest.  
Cranberry Harvest Celebration – October 12th & 13th 2013
158 Tihonet Road, Wareham
Admission: Adults $10; Seniors $4; Under 7 – FREE,                  Parking  – FREE!
Hours: 10:00 AM – 4:00 PM daily.
Celebrate a New England tradition and see the beauty of the cranberry harvest in an old-fashioned family festival! Check out the bluegrass music or the birds of prey exhibits, make a bog in a cup, and more. Back in Tihonet Village, the kids will enjoy pony and train rides, you can explore the craft tents, or take a spin around Tihonet Pond in a paddle boat. Free bog tours available.  
Cummington Fair – August 22-25, 2013
97  Fairgrounds Road, Cummington
Admission: Adults $8; Children (10-16) $4; Under 10 FREE, Parking $3, multiday passes available
Website: www.cummingtonfair.com;
Country Western Bands, 4-H , Horse Hitch Events, Antique Cars, Midway, Truck pulls!  Horses all four days, Thursday "Night for Trucks", demolition derby Friday, Saturday "Old Fashioned Day". Sunday "Senior Day"  
Eastern States Exposition – September 13-29, 2013
1305 Memorial Avenue, West Springfield
Admission: Adults $12 weekdays/$15 weekends; Children (6-12) $8 weekdays/$10 weekends; Under 6 FREE. Visit www.thebige.com to purchase advance discount tickets.
Free top name entertainment, The Big E Super Circus, Mardi Gras Parade, the Avenue of States, Storrowton Village, rides, crafts, shopping, foods from around the world and more!  
Franklin County Fair – September 5-8, 2013
89 Wisdom Way, Greenfield
Admission: Adults $9; Seniors $6; Youth (9-17) $7; 8 & under FREE,
Thu. 3-10pm, Fri. noon-10pm, Sat. 9:30am-10pm, Sun. 10am-9pm
Website: www.fcas.com
E Street Shuffle, Robinson's Racing Pigs, Flying High Frisbee Dogs, Hoses, Horses, Horses! Western Mass Truck Pull, Texaco Country Showdown, Curly Fingers Dupree, Ruby's Complaint, Stoney Roberts Demolition Derby, Tractor Supply Community Stage, Firemen's Parade & Muster and 911 Tribute, Midway, Draft Horse Show, Agricultural Competitions and Exhibits, Fair Museum, Kids' Area, AND MORE!
Marshfield Fair -August 16-25, 2013
140 Main Street, Rte. 3A, Marshfield, MA
Admission: General Admission $10, Children (6 and under) FREE
Mon-Fri noon-10pm, Sat-Sun 10am-10pm
Website: www.marshfieldfair.org
Music Festivals, Live Oldies Shows, Demo Derbies, Motorcross, Fiesta Shows Midway, 4-H, Flower shows, Ox Pull, Farm Draft Show, Horse Pull, Pony Pull, Giant Pumpkin Contests, Fireworks. 
Middlesex County 4-H Fair – August 24-26, 2013
South Chelmsford Road, Westford
Times: Friday & Saturday 8:30AM-8PM; Sunday 8:30AM-4:30PM
Admission: 10 and older $7; 65 and older $5; 4-9 year old $2; 3 and under Free
Web: www.middlesexcounty4hfair.org
Come on out and experience the largest 3 day 4-H kids Fair this side of the Mississippi!!!  
Shelburne Grange Fair – August 25, 2013
Hours: 9am – 4pm followed by auction
Fellowship Hall on Little Mohawk Road, Shelburne, MA
The agricultural fair features crafts, food exhibits, flea market and chicken barbecue.
Call 413-625-6306 for further information. foxtowne@hughes.net (email)
---
Spencer Fair – August 30 – September 2, 2013
Smithville Road, Spencer
Admission: $10; Seniors & ages 7-12 $6; Children under 7 and parking FREE
Website: www.spencerfair.org
Family Fun with Agriculture
Animal, Vegetable, & Horticultural Competitions & Exhibits, Stage Shows, Hypnotist- Dan Candell, The High Flying Pages, Demolition Derbies, Truck Pull, and Children's Entertainment Area.
---
Three County Fair -August 30 – September 2, 2013
Bridge Street, Northampton
Admission: $10, seniors $8, 11 and under free
Website: www.3countyfair.com
Monster trucks, Demo Derbies, Rockwell Amusements. Midway, Animal exhibits, antique engine and tractor show, Music on several stages.Truck Pull, horse pull oxen pull and 4H and youth horse show.
---
Topsfield Fair – October 4 -October 14, 2013
207 Boston Street, Rte. 1, Topsfield
Admission: $10 weekdays, $12 weekends and Columbus Day, children under 8 FREE with an adult.
Parking $10. Seniors Citizens Day: Monday Oct 3 – $7.00 for age 60 and over.
Website: www.topsfieldfair.org
Daily Entertainment, Midway, NE Giant Pumpkin Contest, Petting Zoo, Fireworks, Grange Exhibits
Opening Day Parade, Livestock, Draft Horse Show    
How About a Corn Maze?
Soon, you will be able to enjoy what the drought stricken middle of the country can only dream of – getting lost in a corn maze.
Sauchuk Farm, 200 Center Street in Plympton, is commemorating 50 years since the assassination of JFK  in its maze opening September 21st.  They are now taking group reservations and you may learn more at www.sauchukfarm.net.
Marini's Farm   (www.marinicornmaze.com)  at 259 Linebrook Road in Ipswich explores the Age of the Dinosaurs with T-Rex on the Loose. Maze is open 7 days a week from September 7th – November 2nd. Special Maze events include Doggie-Maze Days and Flashlight nights.
West End Creamery & Family Farm (www.westendcreamery.com) at 481 Purgatory Road in Whitinsville will open its corn maze on September 14th. Full moon Maze Nights are 9/19 & 20 and 10/18 & 19. Call 508-234-2022 to check.
Goss Farm in Dunstable calls its attraction "The Maize" and reminds visitors that this is a real corn field with uneven surfaces, so strollers are not recommended, and dogs and other animals are not allowed unless they are certified service animals.  Find out more at www.gossfarm.com.
Connors Farm is at 30 Valley Road in Danvers, and in addition to the corn maze has a pick your own operation.  Corn Maze set to open Sept. 7th – theme this year is "Welcome to the Jungle". Plan your visit at www.connorsfarm.com.
Schartner Farms is located at 211 West Berlin Road in Bolton (www.schartnerfarm.com). Maze will be open from September 7th – October 27th. Watch for their annual "Taste of the Maze"!
The Davis Farmland "Mega Maze" features a murder mystery theme and is open through October. Visit www.davismegamaze.com for more information.
Then there is Wojick's Farm at 65 Milk Street in Blackstone (www.wojcikfarm.com). Their corn maze is open for the season August 31st and features a sand and surf theme. Maze is open until 9 Pm.
Hick's Family Farm on Rt. 2 in Charlemont – www.hickscornmaze.com –  also has a corn maze that is open Labor Day week-end through Oct. Flashlight Fridays ate 9/13 & 27.
Then Warner's Farm in Sunderland is home to "Mike's Maze" whose 2013 title is "The Dali-rama". Maze open Sept. 7th – Nov. 3rd.
This Rope's Not Just for Jumping!
The jump rope is one of the most inexpensive and versatile pieces of equipment your child or school can own. The jump rope has been neglected, made available primarily for girls, and has been used for a single purpose: jumping. The rope should be 7-8 feet in length and be flexible and pliable. With a little imagination and creativity, look at the rope and think of all the things you can do with it besides jumping.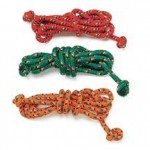 Snakes: Two people hold each end of the rope and wiggle it by the feet of the children like it's a snake. The object is that the kids have to jump over the "snake."
Walking the Snake: Place a 16' jump rope on the ground in a zigzag pattern. Invite the children to walk on the rope as if it were a tightrope. This simple activity builds a surprising number of skills! Eye-foot coordination…balance…taking turns…and more.
High Water – Low Water: Two people hold each end of the rope. Children take turns leaping over the rope. Increase the height after everyone has had a turn. Provide a mat for safe landings.
Wind the Clock: One person spins around while holding one end of the rope. The rope is swung around in a circle along the ground. Children jump over the rope as it nears their feet. The children usually chant a nursery rhyme like "Hickory Dickory Dock" or some other rhyme to make it more fun.
Jump the Brook: Two ropes placed on the ground in the shape of a "V" become the "brook." The ropes touch at one end and are angled so that each jump across the brook is longer and becomes a bigger jump.
Rope Obstacle Course: Thread a rope between the slots or notches in the top of two cones for jumping over or crawling under. Make three circles with three ropes. Jump from one circle to the next. Lay a rope in a straight line that is to be followed or straddled. Place two ropes parallel to each other and one foot apart. This can be a path for walking, jogging, jumping or hopping.
Children's Museums links
Take our on-line survey  and give us your feedback!!